Air Display
Air Display is an app, that is available in your App Store only for mobile Apple devices. With this app, you can turn your iPhone, iPod of iPad into a mobile monitor and use it as additional display or your can use it to display synchronized content.
Installation/configuration
You can get this app only from AppStore. Currently it costs about 10$, it is an expensive app. Additionally to this app, you will need an Air Display server program which can be downloaded from the homepage of the developer. This server is needed to send display data to your mobile devices. Do not buy an App for your Mac. There is also an App available, but it is also only a client program to display content from another PC on your Mac display! This app costs about 15$ and is not needed if you want to use your Mac as host.
Test
For my test I used my MacBook Pro as host computer and my iPad as client. With this two things are interesting during setup:
Retina vs. normal display
My MacBook is some years old and has no retina display. After sharing my desktop with my iPad I was a bit confused. My iPad displayed my desktop in with resolution that was double as high as my MacBook, which had a bigger physical display. Wow. But this was not as good as I thought. All windows are really small on iPad and it is impossible to work, because it is very hard to read in such a resolution.

Configuration
The only solution for my problem was to reduce the resolution of my iPad… Now I have another problem. The colors of the screen is not very good. It looks as if there is a problem with compressing of visible data.
With this problems, it think it is not necessary to test it on my iPhone.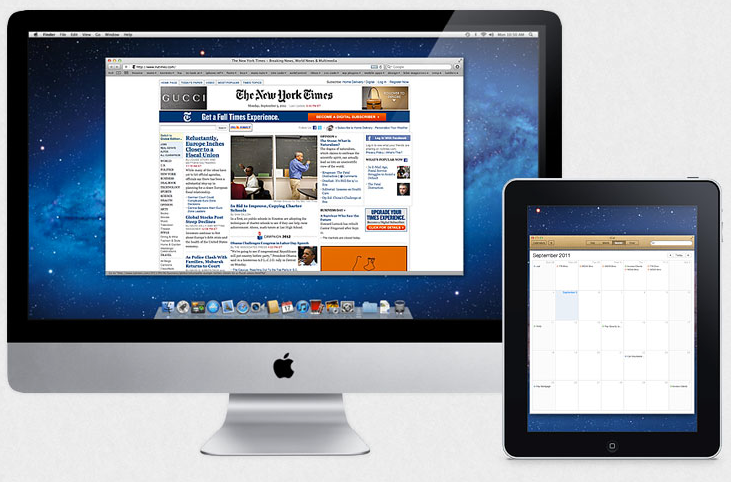 Conclusion
This app is not as good as expected. I can't use it. It is expensive and not very good. Other VNC and RDP programs work much better. They can not extend your desktop, but I think it is not necessary to do that with a device which is smaller as the host.
(Visited 283 times, 1 visits today)